Aug 24, 2014 by occpal
Follow @occpal
Continuous new updates
On Aug 19, 2014 only a few hours before expiration of the 4th ceasefire Israel broke the ceasefire again. On Aug 22, 2014 Israel admitted later it had done so in attempt to assassinate the commander of Qassam resistance brigades.For who paid attention online it may be clear that Israel violated every 4 (humanitarian) ceasefires so far on daily basis.

For a complete overview of previous ceasefires since Aug 1, 2014 (Click here)  Violating truce is a common policy for Israel as it broke the previous Egyptian truce in 2012 at least 287 times (Overview of every single assault here)
BREAKING NEWS
FOLLOW #GAZAUNDERATTACK
For the fastest and most reliable updates about the real events in Gaza follow this list on twitter
CONFIRMED CASUALTIES
VIDEO
Published on Aug 23, 2014
17 people – four of them children- have been injured as Israeli jets fired two missiles at a residential tower in center of Gaza City. Reports say the 12-story apartment building that houses 48 families, has been completely destroyed . Earlier in the day five children lost their lives when Israeli forces hit targets in Gaza City's Shejaiya neighborhood, northern city of Beit Lahia as well as the city of Deir al-Balah.
Published on Aug 23, 2014
Palestinians in the Gaza Strip suffer more death and destruction as Israeli warplanes keep pounding the besieged coastal strip.
A four-story shopping center in southern town of Rafah is the latest target of the Israeli attacks. Palestinian media say the strike left multiple injuries and completely destroyed the building. Hours earlier, two Israeli missiles hit a 12-story apartment tower in central Gaza, leaving 17 people injured. Four children are among the wounded. Earlier on Saturday, five Palestinian children lost their lives when Israeli forces bombed different sites across Gaza. Nearly 90 people have been killed since Israel resumed the airstrikes on Tuesday. Saturday's attacks pushed the overall death toll to more than 2100. 567 children are among the dead. Over 10600 Gazans have also been injured since July eight.
Published on Aug 23, 2014
August 23 marks his eighth birthday. He is not here anymore. He was killed in cold blood after Israeli F-16 warplane demolished his uncle's house while he was playing with his cousins there. No prior warning was given to the family to evacuate.
After 22 years of waiting and IVF treatment to finally become parents, Mahmoud was born. He was the only son. And now he left his parents alone mourning his loss. The norm around the world is that children burry their old parents, but in Gaza, parents burry their young children. With eyes full of tears, Mahmoud's mother told us how one Israeli airstrike was enough to change and destroy their life that was revolved around their only son, Mahmoud. An eight-year old boy was accused of nothing but being a Palestinian living in Gaza. This was enough to get him killed and for an entire house to be demolished over his fragile body.
PHOTOS
Photos by SAFA



The effects of the bombing on the Zionist neighborhood Khan Younis, southern Gaza Strip
Photos by PalToday
Photos by PalToday
The school year begins in a different way in the Gaza Strip
Photos by PalToday
Wounded at Kamal Adwan Hospital Northern Gaza
Photos by RAYA
 Massive destruction and significant losses to destroy the commercial center in Rafah
Photos by Raya
LIVE UPDATES
https://twitter.com/deleiwa/status/503426026462920704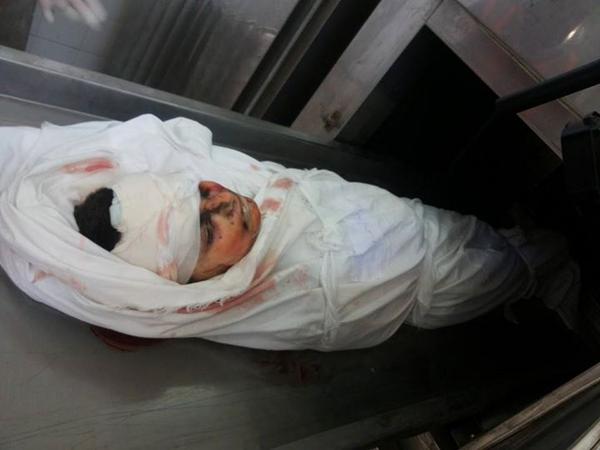 For who does not understand the need or concept of resistance of Palestine, recommended read:
The History of Resistance – The Eagle of Palestine



THE LEGAL RIGHT OF RESISTANCE

Is Resisting Genocide a Human Right?
81 Notre Dame Law Review1275(2006). Conducting an in-depth study of the genocide in Darfur, Sudan, and also discussing other genocides, this article details the inadequacy of many of the international community's response to genocides, such as "targeted sanctions" or international peacekeeping forces. Examining international legal authorities such as the Genocide Convention, the Universal Declaration of Human Rights, and the International Court of Justice, the article demonstrates that groups which are being subjected to genocide have a legal right of self-defense. International treaties, Security Council arms embargoes, or national gun control laws cannot lawfully be enforced in a manner which prevents self-defense resistance to a genocide in progress, because under international law, the prohibition against any form of complicity in genocide takes legal precedence over lesser laws. With Paul Gallant & Joanne D. Eisen. In PDF.
http://www.davekopel.com/2a/Foreign/genocide.pdf
MYTHS & FACTS ABOUT THE ROCKETS FROM GAZA
---
* The list of shuhada does not display, the numerous victims of the zionist occupation which are undocumented by media. Nor it displays the victims of the "silent onslaught" due to restrictions of movement, ability to go to hospitals for treatment or life saving surgery, due to lack of medication because of the blockades and so on. For example: The Slow Motion Genocide by the Siege on Gaza only, killed 600 patients since Gaza got under Israeli Siege.
For an overview of All Israeli Massacres Palestinians go here
Neither does this list, display the avoidable mortality. A clear and statistical factual evidence, about the number of deaths due to indecent ruling by occupation forces. For even an occupier has obligations under International Laws, Geneva Convention and the Hague regulations, which it is neglecting. These circumstances, together with deliberate policies of the occupier to neglect and even deny every basic human right, severes avoidable mortality which is totally silenced by media or reporting organisations. While in the Holocaust, 1 on 6 Jewish people directly died of deliberate neglect, so if we believe the facts over 1 million due to avoidable mortality, neither should these same circumstances be ignores which are ongoing in Palestine. For this report displays a avoidable morality of at least 0,5 million Palestinians.
How many more dead corpses of Palestinians does the international community need to see in order to act? How many more cruelties and violations of Human Rights, Regulations and International Law will be needed to intervene so this ongoing warcrime is being stopped once and for all.
---